The Romers were a rock band from Wilmington, Ohio in the mid 1960s. They performed in most of the cities in Southern Ohio; such as Cincinnati and cities in Kentucky.
Bobby Wisecup (Click Here to see the Romers with Bobby) has finally contacted this web site. He has a new CD out. So stay tuned and I'll get it posted to this web site soon! Check his additon to our Guestbook.
Many thanks to Greg Pond, Dave's stepson, for sending in an early Romer's photo. Click Here to check it out.
Members of the group were:
Jim Brandehoff-Keyboard, bass
Bill Jenkins-Guitar
Dave Borton-Drums
Mike Mitchell-Guitar
Bobby Wisecup-Vocals
I think that the group dis-banded in 1967 or 1966. I'm not quite sure. (I was a member of the group and even I don't remember).
Thanks to JB (Jim Brandehoff) for sending some newspaper clippings of the Romers from the Wilinington News Journal. Click Here to take a look.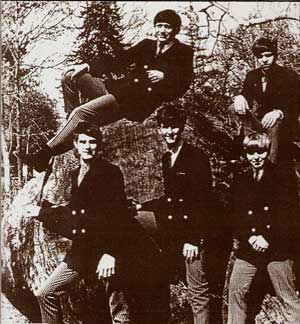 JB continues to gig with his latest band. Click Here to check out his band's web site. JB has sent in a photo he believes is The Romers at Wilmington College. CLICK HERE to view it.
Also, JB has suggested that we should perhaps have a guest book on this site. We have just installed one, so be the first to sign in! Click Here to go to our Guestbook.
If you have any information, pictures, posters, news clippings or other memorabilia on the Romers, please let us know and I'll post it to this web site. Click Here to contact us.
Thank you!
-Romers
Check out some Beatle videos at this special web site. Click here.

Mike (often known as Mick) passed away 2013-01-10 (obit). Until the last, he loved performing and recording. Here is a sample original MP3, entitled "Just Can't Take It", which Mick wrote, sang, played all instruments, and recorded/mixed all tracks.